Investigation into cracks on Boscombe Pier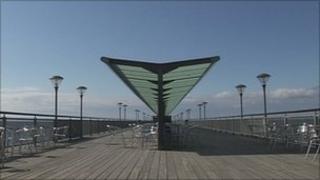 Hairline cracks have been discovered on piles supporting a Dorset seaside pier three years after it was refurbished at a cost of £2.4m.
Bournemouth Borough Council said Boscombe Pier remained structurally sound and safe for public use.
The piles supporting the pier were supposed to have a lifespan of 50 years but cracks were recently discovered in the concrete structures.
The council said it hoped the contractor would pay for the repairs.
Executive director of planning and Transport Tony Williams said: "We are evaluating how the hairline fractures appeared.
"Repair work would be undertaken, we would hope, at the contractor's expense."
A spokeswoman for Carillion, the contractor which carried out the original restoration work, said: "We will be working closely with Bournemouth Borough Council to rectify the situation."
She said an engineer would be on site next week, weather permitting.
Boscombe Pier was named "Pier of the Year" by the National Piers Society after the revamp.