'Unreliable' school buses anger Dorset parents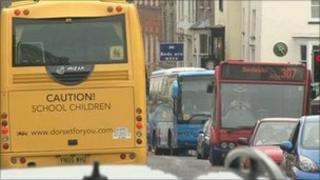 Some children in Dorset are struggling to get to school after the county's bus service was revised to save money.
The introduction of new routes has meant a number of pupils have been left stranded at stops when buses have failed to arrive.
The council has admitted there are "teething problems" after changing the bus company running the school service.
Ticket prices have risen from £250 to £400 and the number of spaces has been cut from 2,000 to 1,000.
'Travelling empty'
One parent, Peter Read, said: "We've ended up with several routes which are travelling empty, some buses don't turn up at all.
"Children are being left at bus stops both going to school and coming home or they're having to wait a very, very long time to see several buses passing them without picking them up."
Miles Butler, from Dorset County Council, said: "We've certainly reduced the number of contractors and the main contractor now has taken on new routes.
"Obviously it takes a while for the drivers and so on to get used to these new routes, and they're taking rather longer than we'd wish."
Michael Foley, headteacher at Thomas Hardye School, said: "If it goes on any longer than the first week then there will be disruption and it will impact on education.
"But I'm hoping we will resolve it and I've written to the transport department and requested a meeting.
Mr Butler said bus firms could lose their contracts if things did not improve.