Eighty rare sand lizards released at Hengistbury Head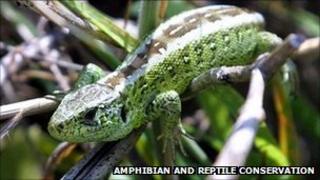 A group of rare sand lizards has been released back into the wild at a Dorset headland.
Eighty sand lizards, believed to be among Britain's rarest reptiles, have been reintroduced at Hengistbury Head, Bournemouth, the borough council said.
The last positive sighting of a sand lizard at this site was in the 1960s.
Once commonly found on sand dunes and heathland, the lizards became endangered due to gradual destruction of their habitats.
The captive bred sand lizards, reared at Marwell Zoo, have been released at Hengistbury Head as part of a long-term conservation project to restore the species status.
During the 20th Century a 90% loss of sand lizards was recorded in Dorset.
'Beautiful animal'
Mark Holloway, Bournemouth Borough Council's countryside operations manager, said: "Recent conversation measures, such as restoring the health of our heathland and coastal dunes through scrub clearing and grazing, have allowed us to reintroduce a small population back into their natural habitat."
Nick Moulton, reptile conservation officer for Amphibian and Reptile Conservation, said: "We feel that the re-introduction of this rare and beautiful animal has every chance of success.
"Hengistbury Head is very well managed for all wildlife and the sand lizard should thrive."