Dorset's Brownsea Island rhododendron to get final cut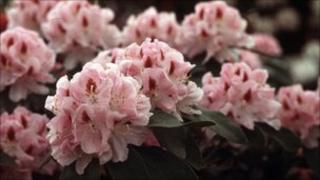 The last rhododendron plant on an island nature reserve in Dorset is to be cut down.
The purple-flowering shrub was introduced to Brownsea Island in Poole Harbour in the 19th Century.
Dorset Wildlife Trust held a raffle to see who would make the final chop of the invasive plant, which helpers have spent the past 50 years destroying.
The winner was Brian March, from Hamworthy, who will carry out the cutting at a ceremony on 27 September.
Abby Gibbs, from Dorset Wildlife Trust, which manages the island, said the rhododendron was a "huge threat" to the island's wildlife.
It suffocated wild flowers and trees, and threatened the survival of the island's red squirrel population - one of the last to remain in southern England.
The 101-hectare (1sq km) reserve became overrun with rhododendrons after its previous owner, Mary Bonham-Christie, had allowed the island to return to nature.
Any regrowth will be managed by spraying for the next few years.
The money raised from the raffle will go towards further conservation work across Dorset.