First phase of Poole's Twin Sails Bridge link road complete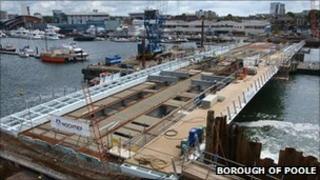 The first phase of work on a £2m link road for the new Twin Sails Bridge in Dorset has been completed.
Connecting Blandford Road in Hamworthy to the £37m Poole Harbour crossing, it has been built to ease traffic flows and reduce congestion when the bridge opens next January.
The link road will open at the same time as the bridge.
Work, which included building a new signalled junction at Blandford Road and Rigler Road, started in January.
The existing Rigler Road has also been widened and new lamp-posts have been installed.
Borough of Poole council says these look as though they are in the wrong place but will be in the correct position once the footpaths are widened.
Further phases of work to the link road include widening the footpaths to 5m (16ft).
All temporary traffic lights have now been removed.
The council cannot confirm when the next phase of work will begin.
The bridge will span Backwater Channel between Hamworthy and Poole port.
It will boost road links to 26 hectares of brownfield land, unlocking a large regeneration site where up to 2,000 homes could be built over the next 10 to 15 years.