Investigation after four fires in 24 hours in Dorset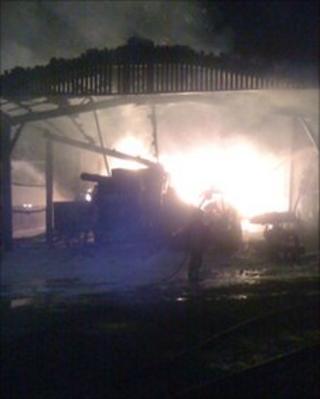 Police have begun an investigation after four fires hit rural areas of Dorset within 24 hours.
More than 40 firefighters were called to tackle a large blaze at a barn near Charminster on Wednesday evening.
Nearby homes were evacuated and Old Sherborne Road remained closed at Lower Burton until 15:00 BST on Thursday.
Dorset Police are also investigating three further fires in rural parts of Dorchester and Sherborne on Wednesday and the early on Thursday.
The barn fire, which was reported at 19:30 BST, involved four businesses. About 100 tonnes of hay and two vehicles were destroyed.
It followed a fire involving a trailer of straw which was reported in Wanchard Lane, Dorchester, on Wednesday morning.
At 21:20 BST a third fire was reported at South West Business Park in Sherborne, involving two bales of hay.
On Thursday at 03:30 BST, officers received a report of a manure pile on fire at Cokers Frome Farm, Dorchester.
No one was injured in any of the incidents.
Det Insp Stewart Dipple, of Dorset Police CID, said: "We are working closely with fire investigators from Dorset Fire and Rescue to establish the cause of the fires, whether there is any evidence to suggest they were started deliberately and whether they are linked.
Police have appealed for information about any of the incidents.