Thousands support Bournemouth character's torch bid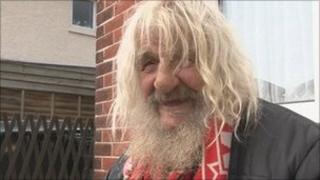 A Bournemouth man has gained 18,000 fans in an online campaign for him to carry the Olympic torch as it passes through the town.
Gordon Roberts, 82, became well known in 2007 after thousands joined a Facebook site called Gordon the Tramp.
In July, campaigner Jane Reynolds set up a Facebook group to nominate him as Bournemouth's Olympic torch bearer.
Mr Roberts is known locally for being able to tell the time without a watch.
Although he lives in a house, he spends his days wandering the streets of the town.
He is recognisable by his white beard and football scarf.
Mr Roberts told the BBC in July of his reaction to being nominated as a torchbearer.
"I'll still be the same person. If I carry it, I might drop it," he said.
He also added he would have to "think it over" if he was successful in becoming a torch bearer.
A spokesperson from the London 2012 Organising Committee (Locog), said: "It's great we're seeing so much interest in becoming a torch bearer from such a wide range of people, and such a lot of support for the process.
"Each application will be decided by a selection panel."