Thomas Hardy Monument restoration nears completion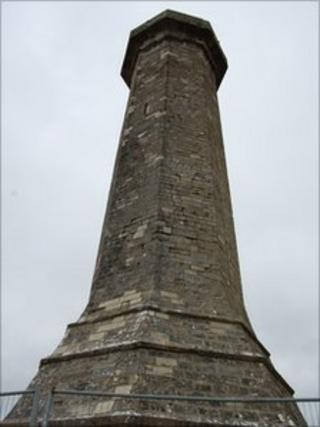 Work to restore a famous Dorset landmark is nearing completion, according to the National Trust.
The 72ft (22m) Hardy Monument, in Blackdown near Portesham, was erected in 1844 in memory of Vice Admiral Sir Thomas Hardy.
It had become unsafe due to falling masonry as a result of exposure to frost and heavy rain, and was closed to the public in November 2008.
The repair work, costing £150,000, will be finished in October.
Nearly 200 stones are being replaced and 60% of the monument is being re-pointed.
Work is also being carried out to the internal staircase which has 84 steps.
The work, which started in May, has been funded by the Rural Development Programme for England, the National Trust's Neptune Fund and local National Trust members' associations.
The tower, which was last restored in 1900, is expected to open to the public at Easter.
Sir Thomas Hardy served as flag captain on Admiral Lord Nelson's ship, HMS Victory, at the Battle of Trafalgar in 1805.
He was at Nelson's side when he was fatally shot by a French sniper.