Sword in stone on Wareham roundabout display stolen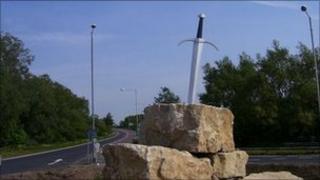 A steel replica sword which formed part of an award-winning floral display on a Dorset roundabout has been stolen by vandals.
Police said the 4ft (1.2m) sword, which was set in boulders on the roundabout on North Street, Wareham, was cut out on Saturday night or Sunday morning.
The roundabout was the centrepiece of the town's 2011 Britain In Bloom entry.
Wareham won a silver gilt medal in the competition, the results of which were announced at the weekend.
The sword, which was concreted and bolted into Purbeck stone, is a replica of a sword discovered in a nearby river during an archaeological dig. It resembles a Viking broadsword.
Officers said large quantities of debris including slate and gravel from the roundabout island had also been scattered across the road.
PC Moira Connolly said: "This was a malicious act, targeted toward a community project in a town very proud to have reached the finals of the national In Bloom competition.
"As the local safer neighbourhood officer I am disgusted and very upset for all the people who supported this community project."