Captain Cook's 'first Australia voyage' boomerang unsold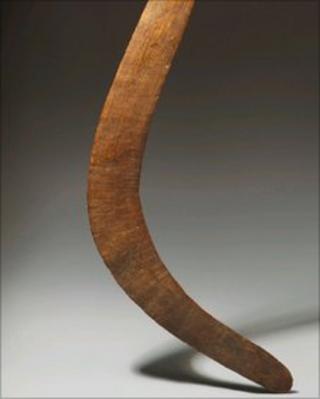 A boomerang believed to have been collected by explorer Captain James Cook on his first voyage to Australia failed to sell at auction in Dorset.
The wooden Aboriginal hunting stick, thought to have been collected in 1770, was expected to fetch £20,000.
It was part of a collection that included two Aboriginal wooden clubs, which were also unsold.
A power of attorney given by Captain Cook's widow, Elizabeth, to executor John Leach Bennett sold for £3,600.
The items were sent to Duke's auctioneers in Dorchester by the great-great grandson of John Leach Bennett.
Letters of administration made £1,400, a mourning ring sold for £1,500 and manuscript material fetched £500.
A spokeswoman for Duke's said it was "too early to say at the moment" whether the boomerang would be re-auctioned, adding it was up to the vendor to decide.
Earlier, a spokesman had said: "It is a privilege to deal with an iconic object associated with one of the great figures in English history, which probably represents one of the first Aboriginal artefacts to reach these shores."
Also under the hammer at the auction was a 16in (40cm) tall aluminium Olympic torch, spotted at a village sale, which sold for £5,400.
The torch, discovered in a box of bric-a-brac, is believed to have been used during London's last Games in 1948.
It is pierced with the five Olympic rings and is inscribed with the motto, "XIVth Olympiad 1948, Olympia to London with thanks to the bearer".
The torch's seller, Larry Skeats, is suffering from cancer and is auctioning the torch to raise funds for a Dorchester hospice.