Oliver Cromwell beer jug found on Antiques Roadshow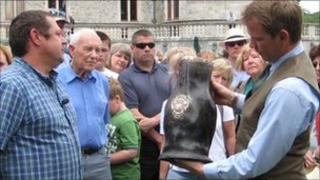 A leather ale tankard made for Oliver Cromwell during the Civil War has been discovered in Dorset.
Believed to be about 350 years old and worth about £30,000, the jug was taken to the Antiques Roadshow at Lulworth Castle by Paul Hoare, from Bere Regis.
The tankard features Cromwell's crest and name and is thought to be made from the skin of his horse, Blackjack.
The programme's expert John Foster described it as "the most exciting thing I've seen in years".
The jug, which belongs to his father Richard Hoare, had been handed down through the family, Mr Hoare said.
"From what I understand it was made from the war horse that Cromwell used to ride, so when the horse died they had this jug made."
Expert Mr Foster told Mr Hoare the jug was likely to have been made for the celebrations following Cromwell's rise to Lord Protector in 1653.
The jug is due to be featured on the programme on BBC 1 on Sunday at 20:00 BST.