Pupils help to protect Purbeck heathland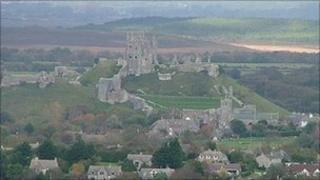 School children are joining forces with National Trust rangers to help protect rare heathland in Dorset.
Year Nine from Purbeck School will be working with the team on Hartland Moor, near Corfe Castle, between 4 and 19 October.
Together with rangers Phil Stuckey, Jim Cribb and Steve O'Connell, about 270 students, aged 13 to 14, will help to clear gorse and improve the habitat.
The pupils will also be shown what work is needed to protect heathland.
Mr Cribb described Hartland Moor as "one of the hidden gems of the Purbeck countryside".
He said it was important for the students to "see what we do in the countryside and learn about why we do it".
He added: "It is quite interesting watching them through the sessions - at first there's quite a bit of screaming when they find a toad or something, but as the sessions progress they get more and more into it."
Hartland Moor lies east of the A351, between Wareham and Corfe Castle, and is home to rare plants like marsh gentian and bog orchid as well as birds such as Dartford warblers and hobbies.
The initiative is part of The National Trust's Guardianship Community Partnership scheme, launched more 20 years ago and designed to build links between local communities and their National Trust places.