Poole to Cherbourg ferry service ends for second time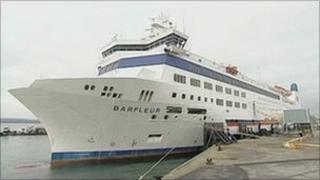 A cross-Channel ferry service between Dorset and France has set sail for the last time following a seven-month trial.
The Barfleur ferry, which runs between Poole and Cherbourg, was withdrawn in March 2010 but resumed on a trial basis in March 2011.
Brittany Ferries blamed the "depressed state of the economy", a lack of freight and high oil prices.
But the company said the ship could return again if the outlook improved.
A spokesman said: "We need to look at all the figures from the summer.
"There are several options but we need to have a think before a decision is made."
The ferry, which carries foot passengers, vehicles and freight, will be laid up while a decision on its future is made.
Caroline Palmer, who is a regular passenger to France, said: "It is very sad for the port of Poole to see it go again.
"I have a place in France and it means I have to travel to Portsmouth, so if it returns, even just for the summer months, it would be better."
A fastcat service operated by Brittany Ferries' partner, Condor Ferries, will continue to sail the route during the summer months.