Landlord of the year closes Cerne Abbas pub for six months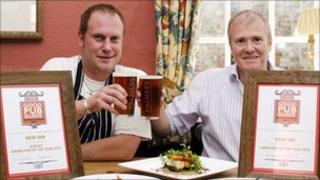 A Dorset man has been named national landlord of the year by the Good Pub Guide just days before his pub closes for six months.
Jeremy Lee, who runs The New Inn in Cerne Abbas, said it was "necessary" to close the pub for significant refurbishment.
The New Inn dates back to the 16th Century and is Grade II listed.
The pub will have an extra six rooms put in, as well as having a new kitchen and new toilets installed.
Mr Lee said: "It's not great timing, as we're shut from Monday next week, but we had no idea we were going to get these awards."
Michelin inspector
Mr Lee, 43, used to own five pubs in London.
He said: "I've always been interested in food, and I was an inspector for the Michelin Guide in the mid 90s, which was when a young chef called Gordon Ramsay was just starting out.
"A lot of people who liked food were getting into the pub industry, so I decided to do that as well."
Mr Lee said pubs were returning to their roots by serving food.
"They were always hostelries serving food in the past," he said.
The pub has also won Dorset Dining Pub of the Year according to the Good Pub Guide.
The New Inn is located close to the famous Cerne Abbas giant, a fertility symbol carved into the hillside.