Dorset 'lollipop people' campaign saves school patrols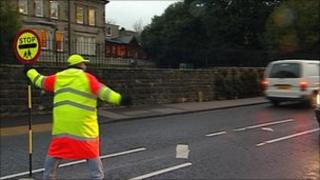 The majority of crossing patrols for schools in Dorset have been saved from council cut-backs.
Dorset County Council proposed cutting the whole service to save £200,000 a year but councillors approved a report recommending 51 out of 61 patrols stay.
Save Our Lollipop People campaigner Helen Toft said it was "a victory for common sense".
The council said the 10 patrols being cut either did not meet national criteria or were already on a crossing.
The criteria includes roads that have no, or few, other safety measures such as pelican crossings or pedestrian lights.
Peter Finney, cabinet member for highways and transport, said: "We have listened to what people had to say, and have agreed to retain all 51 school crossing patrols on sites which meet the national criteria."
Under the previous plans put forward by the Conservative-led council, schools would have had to pay for the service or invite volunteers to help out.