HMS Daring pays first call to Portland Port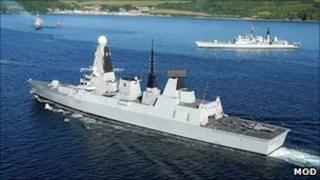 One of the Royal Navy's newest warships is due to make its first port call in Dorset later.
Type 45 destroyer HMS Daring will anchor in Portland Port for a three-day visit.
The 150m (about 500ft) ship is currently undertaking an eight-week training operation at sea ahead of an operational deployment.
The 7,500-tonne Portsmouth-based warship will be open to the public on Sunday.
The technologically innovative vessel is equipped with an air defence system, which can track and destroy a target the size of a cricket ball travelling three times the speed of sound.
Capt Robinson said: "I do hope as many local people as possible take up the opportunity to have a short tour of the ship and see for themselves the stunning capability of the Type 45 destroyer."