Woman in wheelchair dies after sea fall in Lyme Regis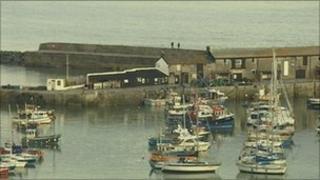 A 20-year-old woman has died after her electric wheelchair plunged into the sea at Lyme Regis in Dorset.
The woman, from Solihull in the West Midlands, was with her family waiting for a boat cruise when her wheelchair rolled off Victoria Pier harbour wall.
Police, paramedics and the RNLI were called to the scene shortly before 13:00 BST on Friday.
The woman was flown by air ambulance to Dorset County Hospital in Dorchester but later died, Dorset Police said.
Her family, members of the RNLI lifeboat crew, a coastguard, a local boatman and a paramedic dived into the water to retrieve the woman from 10ft (3m) below the surface.
After considerable difficulty because she was strapped into the wheelchair, she was brought unconscious to the surface, police said.
On holiday
Lyme Regis Lifeboat crewman Colin Jones said the woman was under the water for more than 30 minutes.
He said: "The difficulty was the depth of the water and the fact that the water was not clear, so they could not see the person on the bottom, and they were diving to their limits.
"When they got a line to it, it took about five to six people to pull up the wheelchair with the occupant onboard."
The woman was on holiday in the area with her family.
Victoria Pier branches off from The Cobb, which famously featured in the film The French Lieutenant's Woman.
Dorset Police have begun an investigation and are appealing for witnesses to come forward.