Canford Bottom Olympics junction road works under way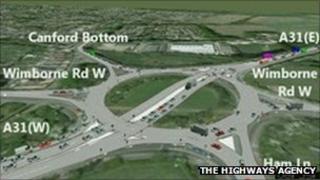 The main work of a £5.7m scheme to create a major interchange in Dorset has begun, ahead of the 2012 Olympic sailing events.
Motorists using the A31 between Ferndown and Wimborne have been warned of disruption during the works which are due to finish in May.
The development will see the Canford Bottom roundabout sliced in half by a dual carriageway.
The 2012 Olympic sailing events are being held in Weymouth and Portland.
The works are part of the Olympic Route Network (ORN) and will be carried out 24 hours a day, Monday to Friday.
They will involve a speed limit of 30mph and overnight closures of the A31 and local roads.
During the morning peak, it is estimated about 4,000 vehicles use the roundabout each hour.
'Gridlock'
David Mitchell, chairman of Colehill Parish Council, said he had written to the Highways Agency about the lack of public consultation and the impact of the road closures on local residents and businesses.
He said: "The gridlock that will almost certainly ensure will make it virtually impossible for local people to enjoy any form of normal life for a period of some eight months."
Neil Andrew, Highways Agency asset manager, said: "The A31 Canford Bottom junction is a busy interchange with significant congestion at peak times and weekends, resulting in long traffic queues on the approaches.
"This scheme aims to reduce congestion, both for the A31 and local roads, and make the junction safer."