Sandford Heath's 'Roman Road' is excavated in Dorset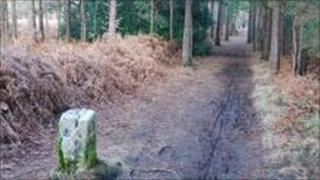 An archaeological dig has begun on a Dorset footpath to determine whether or not it has Roman origins.
The straight path, known locally as "Roman Road", runs through Sandford Heath between Sandford and Station Road at Holton Heath.
Organisers say the path may have formed part of the main road between Wareham and Poole in the 18th Century.
It is also thought a Roman road runs underneath the path or nearby dating to AD43 when the Romans invaded Britain.
The excavation is part of the Sandford Heritage Project, which aims to raise awareness of the historical and natural heritage of the Sandford area.
Ben Buxton, project officer, said: "We are cutting into the surface of the footpath and extending a trench on the north side, because there are some banks and ditches here which may suggest a hidden earlier route.
"There are strong reasons to suggest there is a Roman road buried here because the path is on a land boundary between different estates, including the Drax Estate, which is commonplace in the history of Roman roads."
The trench starts in the middle of the footpath to allow pedestrians to pass by while the work is carried out.
The excavation is expected to take two weeks and will be directed by local archaeologist Lilian Ladle with the help of local volunteers.
The area has not been excavated in the past.
The project received £42,000 from the Heritage Lottery Fund.