Bournemouth school reopens following noxious substance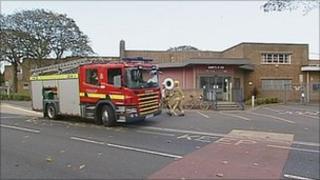 A Bournemouth primary school evacuated after a number of pupils suffered breathing difficulties has now reopened.
About 420 children and 180 staff and adults were forced to leave Kings Park Primary School at lunchtime on Friday.
Fire officers blamed an 'airborne irritant' but the retest found no trace and the source is still unknown.
Following a retest, fire service and environmental health officials declared the school safe at 06:40 BST on Monday.
Headteacher Tanya Bunting said: "I am concerned that we may well face the same situation again.
"That said, I am reassured by the emergency services that they found nothing untoward in the air and that they will be there to support us should we have any concerns.
"The early indications we had were of adults having respiratory problems, adults who were already known to have respiratory problems from time to time, we also had a little boy who is known to suffer from asthma so with him we did act quickly and sent him home."
Other symptoms included head aches, dry throats and some irritated eyes.
Further air sampling and gas monitoring tests were carried out at 11:00 BST but there were still not any traces of any fumes.
The incident is now in the hands of Bournemouth Borough Council's environmental health team.