Dog survives 115ft drop from cliff in Dorset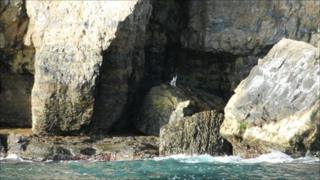 A dog that fell 115ft (35m) from a cliff top in Dorset was rescued uninjured by a lifeboat crew.
Ben was chasing a deer when he fell from the cliff into Durlston Bay on Sunday afternoon.
Six hours later, tourists on a boat trip along the Jurassic coastline spotted the dog on the headland.
They called Swanage lifeboat station, who sent out a small boat to rescue the dog, put him on board and take him back to dry land. The deer was also unhurt.
'Happily reunited'
Steve Blanchard of Poole Sea Safari, which runs the boat trips along the coast, said: "It's not the first time this happened. A deer fell here two or three months ago.
"I think it might be because there's quite long grass at the top of the headland so small animals can't see the cliff top."
The owner of the dog was said to be "relieved", after searching for his pet all day.
"Ben was happily reunited with his owner and is none the worse for wear after his ordeal," said Mr Blanchard.