Gas leak in Swanage, Dorset, 'has been capped'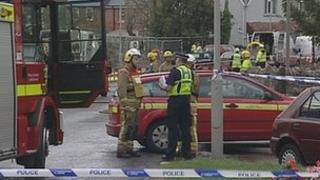 A gas leak which led to 28 homes being evacuated in Dorset has been capped, Purbeck District Council has said.
About 100 people are thought to have been affected by the leak in Victoria Avenue, Swanage, which was spotted shortly before 09:30 BST on Tuesday.
Police are checking the houses to see if it is safe for residents to return to their homes.
Southern Gas Networks said the incident was unlikely to be resolved until later on Wednesday.
Some residents spent the evening at a rest centre at a nearby church hall.
Water jets
The Women's Royal Voluntary Service provided food and drink for people unable to make alternative arrangements.
The council said it arranged hotel accommodation for some older residents and people with health concerns.
Residents were accompanied by Southern Gas Networks officers to collect overnight belongings from their homes.
Engineers are currently carrying out repair work while the fire service has set up three water jets as a precautionary measure.
A Swanage Railway spokesman said it would continue to run a diesel-only service on Wednesday after its steam service was suspended because of safety fears.