Bournemouth council moves to evict protesters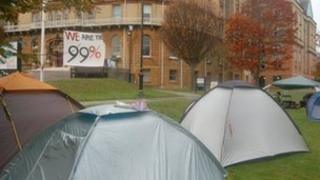 Bournemouth Borough Council has applied for a court hearing to evict protesters camping outside its town hall.
The encampment began as part of a string of anti-capitalism protests across the country.
The council said it was concerned about the lack of sanitation on the site and the effect of the encampment on a number of forthcoming weddings.
The hearing date has been set for Friday. Council officers earlier removed banners from the camp.
The authority said the banners were contravening highways laws.
Council deputy leader John Beesley said: "What started as a protest march on Saturday has now become an unauthorised occupation of public land and as such we are treating it the same as we would any other illegal encampment.
"Those at the camp have made their point peacefully, but it is now time for them to go home and allow the wider public full access to the land that is currently occupied.
"I am hopeful that those occupying the camp will leave of their own accord before the court hearing on Friday."
Protesters who are part of the Occupy Bournemouth movement are camping in nine tents in front of the town hall.
They say they sought permission from the council and police before pitching their tents on Saturday.
One protester said the group had been inspired by larger protest events at St Paul's Cathedral in London and at Wall Street in New York.
He said they were protesting for a variety of reasons, including the banking bail-out, NHS reforms and pension reforms.