Bournemouth Occupy camp eviction put on hold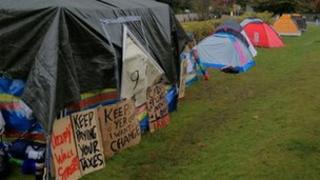 Protesters camped outside a town hall in Dorset to campaign against corporate greed have had their eviction delayed until Thursday morning.
Bailiffs were due to arrive at about 15:15 GMT to remove a number of tents from outside the offices of Bournemouth Borough Council.
Lawyers for the protesters lodged a last-minute appeal at Bournemouth County Court against the eviction.
The judge adjourned the hearing until 11:00 GMT on Thursday.
He said it was important he had time to consider the campaigners' arguments.
New democracy
Protestor Jack said there were about 20 protesters at the camp and he described the court decision as "absolutely excellent".
He told the BBC: "We've got very strong grounds for the appeal. We want to spread awareness and allow the camp to be a platform for discussions.
"We've lost faith in politics and we're not being represented.
"We think the best place to have these discussions is right outside the council, and invite everyone to come and join the new democracy."
He said the group vowed to move elsewhere in town if the eviction was carried out.
A council spokeswoman said it was in everyone's interests if the protesters left of their own accord.
Lack of sanitation
She said the occupation "could have a negative impact" on a number of forthcoming events, including weddings and the Remembrance Day procession due to take place on Sunday.
"We would urge Occupy Bournemouth to show respect for these events and vacate the site immediately," the spokeswoman said.
The council has also said it is concerned about the lack of sanitation on the site.
The authority served a copy of a possession order on Monday.
Granting the order on Friday, the judge told the protesters: "You are trespassing and must leave the land forthwith."
The protest, which is part of the Occupy Bournemouth movement, began as part of a string of protests across the country.
The protesters say they sought permission from the council and police before pitching their tents on 29 October.
One of them said the group was protesting for a variety of reasons, including the banking bail-out, NHS reforms and pension reforms.