Majorca helicopter crash: Pair named as Mark Blaver-Mann and Alistair Evans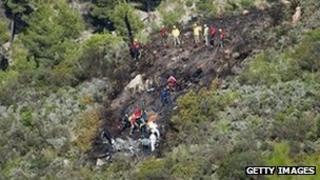 Two Britons killed in a helicopter crash in Majorca have been named as a pair of businessmen from Dorset.
Mark Blaver-Mann and Alistair Evans, both 53 and from Poole, died as the helicopter came down in woods in Coll de Sa Gramola near Andratx on Saturday.
Mr Evans owned the Soho restaurant bars in Christchurch and Westbourne while Mr Blaver-Man established, then sold, Poole-based engineering firm Powerman.
A friend of the pair, who was unable to make the trip, said it was a "tragedy".
Mr Blaver-Mann was said to have been at the controls of the top-of-the-range Hughes 500 chopper when it fell from the sky.
Stephen Bath, joint managing director of Bath Travel, had been invited to join the pair in Majorca.
Mr Bath said: "I had been with the pair of them with our wives just last Friday to see Alistair's new house in Canford Cliffs. He proudly showed us round his lovely house. We had a nice dinner and we ended up talking about helicopters most of the evening.
"They kindly invited us out this weekend to be with them but we had a prior commitment.
"If I'd been out there I would have been with them. I would never normally turn down a flight in a helicopter."
'Had to be them'
Mr Bath told how he heard the news of the crash at a party on Saturday.
"I was just arriving at a party in Christchuch and word came through from London that a helicopter had crashed," he said.
"It was a Hughes 500 and there's only one in Majorca so it had to be them."
Mr Bath described Mr Evans as a "fanatical sailing racer" who only recently moved to Poole to be closer to his boat.
He said Mr Blaver-Mann bought the helicopter last year and learned to fly it "from scratch".
The crash caused a small forest fire, destroying a quarter of an acre of woodland before it was put out, reports said.
The area is noted for its impressive mountain views.