Pet dog stabbed 21 times by intruders at Bournemouth house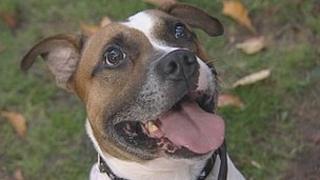 A pet dog was stabbed 21 times then thrown over a garden fence by intruders who broke into a house in Bournemouth.
The attack on Dempsey, a Staffordshire bull terrier, was described by a vet as the worst case he has ever seen.
Dempsey underwent three-hour life-saving surgery after being stabbed in the pancreas and diaphragm at an address in Malmesbury Park Road.
The six-year-old is recovering at home with owner Claire Wilkinson following the attack earlier this month.
Dempsey had been staying with Miss Wilkinson's 19-year-old daughter Lauren when the attack occurred.
'Blood everywhere'
The teenager returned home from a night out to find a trail of blood throughout her flat.
Dempsey was rushed to Bournemouth's PDSA PetAid hospital by police who had been contacted by a neighbour who had heard the attack.
Miss Wilkinson, 38, of Stourvale Road in Southbourne, said: "I got a call from a neighbour at about 3am that Dempsey had been stabbed. I was in a lot of shock as it was late and I couldn't get my head around someone doing that. My daughter was in a state.
"There was blood everywhere. Whoever did this wanted to kill Dempsey and they thought he'd died when they threw him over the fence."
She described those responsible as "very sick people".
'Immensely lucky'
"Dempsey's not even aggressive - he's such a lovely family dog and I know my daughter dotes on him so I think he was targeted," Miss Wilkinson added.
Uwe Holz, senior veterinary surgeon at the hospital, said: "I've treated a small number of stab injuries previously, but this is by far the worst case I've ever seen.
"He was very shocked and he'd lost a lot of blood. He had a puncture to his chest so found it hard to breathe."
Mr Holz said Dempsey's lungs had collapsed, but he was "immensely lucky" as most of his vital organs had been missed.
"He made such a good recovery it was incredible - he is such a strong dog", he added.
Anyone with information about the attack, early on 2 November, is asked to contact Dorset Police.