Hedgehog found living in Christchurch sewer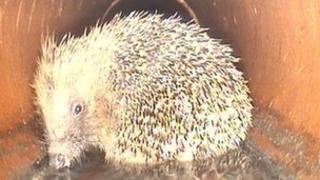 A hedgehog has been released unharmed after being found in a sewer in Dorset.
The animal was spotted on CCTV wandering around and exploring the pipes in Christchurch.
Engineers working for Wessex Water were using a robotic camera to survey the condition of the pipe when they came across the creature.
They encouraged the hedgehog to continue making its way along the sewer to a point where it could be rescued from a manhole cover.
They said the hedgehog "didn't look too pleased to have been interrupted" but was released back in to the wild unharmed.
Roz Trotman, CCTV and flow surveyor for Wessex Water, said: "We were extremely surprised to see the hedgehog.
"Usually all we see on the screen is waste and sewer walls.
"We can't understand why the hedgehog would have decided to venture into the sewer, but we're thrilled that it is now back on safe ground."
She said earlier this year workers also found a grass snake and a toad in sewers across the South.