Dorset broken leg girl, 4, wants cyclist apology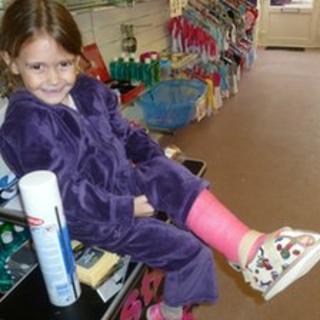 A four-year-old girl whose leg was broken when she was hit by a cyclist in Dorset has asked the culprit to come forward and apologise to her.
Sienna Barnett was in Southbourne Grove, Bournemouth, on Saturday when she was hit while on the pavement.
Police have released a CCTV image of the rider, who initially stopped but then rode off.
Sienna also said she was upset because her new pink boots had been taken by police for forensic checks.
She said: "I hope we find the man who did it.
"I want him to say sorry to me."
Screaming 'Mummy'
Her mother Bonnie Barnett, who was with her daughter at the time, said the cyclist rode off without checking if Sienna was seriously hurt.
She added: "He just mowed her down. He was going too fast and he was on the pavement.
"No matter who he hit, he would have done damage.
"She was holding her leg and screaming 'Mummy'. She was in so much pain and shock."
Mrs Barnett appealed to the rider to come forward so the matter could be dealt with.
Sienna was treated in hospital for two fractures to her left leg.
The cyclist is described as white and in his late teens or early 20s.
Police said he was riding a dark mountain bike and was slim with short fair hair.