AFC Bournemouth football pitch development approved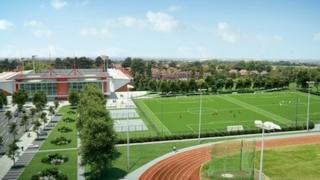 AFC Bournemouth has been granted planning permission to build a new £600,000 development at Kings Park.
The club will build two grass football pitches, two five-a-side pitches and a training facility to develop local talent.
It was approved at a planning meeting at Bournemouth Town Hall.
Club chairman Eddie Mitchell said he was "delighted" and that he wanted the facilities to be in place for the 2012/2013 season.
"We have put together a talented squad of young players and we need to give them best facility possible so that they can reach their potential.
"The signings we have made over the last couple of months say a lot about our intentions, and so do the plans for the training pitches," he said.
"It will help bring players to the club and keep them here, and it's what is needed for a club our size. Good facilities go a long way and are essential for the progress we want to make."
A spokesman for the club said plans were approved by Bournemouth Borough Council officers, 9 votes to 2.
The pitches will be created on derelict land adjacent to AFC Bournemouth Seward Stadium.