Bournemouth Christian with HIV feels 'lucky to be alive'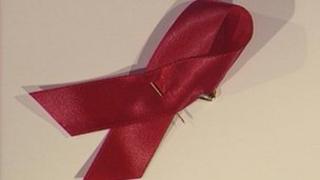 Eight years ago, Ivan was diagnosed with HIV, but despite having been through the "darkest of times" he said he feels more positive than ever and feels "lucky to be alive" to serve God.
Ivan, 51, a Christian from Bournemouth who did not want to give his surname, even said he would rather have HIV than diabetes - a disease to which his father lost a leg.
He has been a volunteer at West Cliff Baptist Church for the past six years and also works two days a week at Body Positive Dorset - a centre for people with HIV.
"There's still a lot of stigma attached to the disease and a huge lack of education," he said.
"I just want people to accept me for the person I am and not be frightened thinking that they can catch it by sharing a cup or whatever."
'Not promiscuous'
According to the charity World Aids Day, there now more than 90,000 people living with HIV in the UK, with around a quarter of those unaware they have the virus.
Ivan, a father-of-three who was married when he found out he was HIV positive, thinks he contracted the disease sometime between 1994 and 1998.
"I had it for at least five years before I even knew I was ill," he said.
"I wasn't promiscuous and to be honest the exact details of how I caught it, and from whom, are irrelevant now.
"I could have died quite a few times in my lifetime - I was really poorly with rubella when I was three months old, I nearly drowned when I was 11 and when I was 20 I was involved in a major car crash - I feel lucky to be here and to be able to serve the Lord in the way I do.
"In fact, I feel it's the least I can do for Him."
'Normal life'
Although the ministers at the church know Ivan has HIV and have been very supportive, many of the congregation there do not and on 11 December Ivan plans to tell them officially as part of his "testimony" to God.
He said: "It isn't really a big deal to me to tell them - it's about God's grace. It's not about me.
"Some of the congregation are quite elderly and I'm not sure how they'll take it. Maybe they'll think I'm dirty or disgusting but hard luck.
"I've been volunteering here for many years and there's no reason I shouldn't carry on helping with the play group, cleaning and cooking breakfast for the homeless.
"I'm here to serve God."
Ivan, who controls his disease with medication, said he wants to be "free".
"I just want to be as open as possible and live a normal life," he added.