Memorial for Dorset's Olympic record breaker after 111 years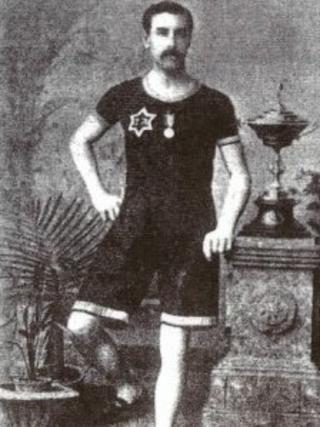 The first Briton to win an Olympic gold in athletics has been given a new gravestone to celebrate his victory - 111 years after his achievement.
Charles Bennett won the 1,500m at the Paris Olympics in 1900, in a then world record four minutes and 6.2 seconds.
Bennett went on to win another gold at the games in the 5,000m and clinched silver in the 4,000 steeplechase.
His old gravestone in Shapwick, near Wimborne Minster, Dorset, was hidden under weeds.
The achievements of Bennett, known as the Shapwick Express, had been forgotten along with his gravestone which his grandson found in the churchyard in 2000.
Chris Bennett, 67, from Bournemouth, said: "I was only four when my grandfather died. He was an unsung hero.
"My parents never really spoke to me about his achievements as we didn't like to boast."
The new headstone was donated by a local stonemason and funeral director.
The plinth now reads: "In loving memory of Charles Bennett 1870-1948. First British track and field athlete to become Olympic Champion."
Mr Bennett, who said he does not know what happened to his grandfather's medals, added: "I think it's absolutely wonderful and a fitting tribute."
Sean Stevenson, of Anthony Ives Memorials, who donated the headstone, said: "The Shapwick Express deserves recognition for his achievements, especially as we're hosting the Olympics this year.
"I was unaware we had a local chap who was previously an unsung and forgotten Olympic hero."
Bennett worked as a train driver on the Bournemouth-to-London Waterloo line.
He trained with the Finchley Harriers in north London after work as there were no facilities or running club in Shapwick, which then had a population of 190.
He died in 1948 aged 78 while working as a publican in Kinson, Bournemouth.