Debate over 20mph speed limit in Winton, Bournemouth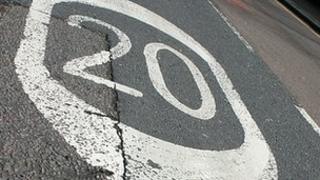 The introduction of a 20mph (32kph) speed limit in parts of Bournemouth has provoked criticism from some residents.
The limits in Winton were introduced by the local authority, but the area's councillor has called the issue back for further debate.
Road safety campaigners back the 20mph limit but residents argue the accompanying traffic calming measures will mean less parking spaces.
The council said the initial decision was made after a public consultation.
'Killed or injured'
Jason Falconer from cycling group Sustrans said: "It is part of the council's wider work to improve walking and cycling infrastructure. Evidence shows the number of kids killed or injured [in 20mph areas] is halved."
However, Winton ward councillor Theo Stratton, said the limit was "something that isn't wanted or needed" as vehicles' speeds were restricted by the residential streets being so narrow.
"We'd like to start afresh and take a look at the ward, ask what residents and schools want, not impose a generic solution from the town hall," he said.
The issue will be debated again by environment and transport scrutiny panel later.
The council said it conducted a consultation during which 1,000 letters were sent to residents and two public exhibitions were held before the speed restrictions were introduced.