Dorset landfill site 'to become beauty spot'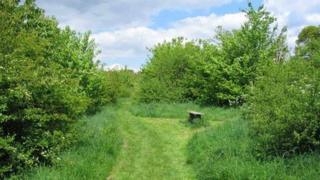 More than 6,500 trees and shrubs are to be planted on a former landfill site in Dorset in a bid to transform it into a "beauty spot".
Dorset County Council said the planting at Stourpaine was due to be completed by Christmas.
Ten species of tree will be planted in area of more than six hectares (15 acres) with spaces left open for paths.
Danny Alder, from the council, said the hope was for the site to become "a natural asset for the local community".
The trees being planted, funded by a Forestry Commission grant, include ash, field maple, crab apple and silver birch.
Mr Alder said the trees were likely to thrive in the loamy soils used to cap the landfill.
He added: "We believe the mix will do well on this restored hillside and will become an important wildlife habitat - particularly for woodland birds.
"We expect to see the landscape change here within the next 15 years."
The former rubbish tip, which is managed by Dorset Waste Partnership, was restored to grassland when it closed in 1993.
The site will be open to the public once planting has finished.