Priest's House Museum's Christmas pudding stir celebrates 20 years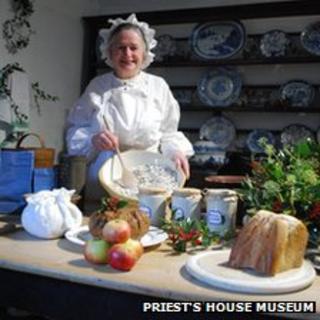 More than 250 people have taken part in an annual Christmas pudding stir at a Dorset museum.
This is the 20th year the Great Pudding Stir has taken place in the Victorian kitchen of the Priest's House Museum in Wimborne Minster.
The recipe is taken from Mrs Beeton's Book of Household Management, edited by Isabella Beeton between 1859 and 1861.
Museum visitors were invited to take part in the event and sample the finished pudding.
The original recipe for "A Plain Christmas Pudding for Children" contained flour, bread crumbs, stoned raisins, currants, suet, eggs, milk, candied peel, powdered allspice and salt.
Emma Ayling, the museum's curator, said sugar was now added to the recipe "to make it more palatable", and the pudding was cooked on a coal-fired range.
She added: "This festive event aims to bring history to life".