Poole's knitted 10ft Christmas tree on display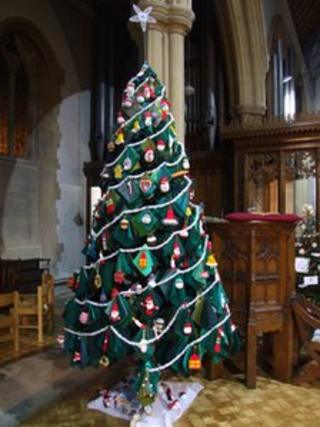 Parishioners in Dorset have knitted a 10ft (3m) high Christmas tree as part of an annual festival.
The woollen creation joins 62 fir trees at the ninth Christmas Tree Festival at St Aldhelm's Church in Branksome, Poole.
Comprising of 200 decorations and 1,200 knitted squares, it has been created by up to 60 local knitters.
After the festival the squares will be knitted into blankets and sent to charity.
Hundreds of people from local community groups, including schools and residential homes, have taken part in this year's tree festival, which was first held in 2003.
The fir trees, each of which has been created by a different group, are decorated with the theme Back In Time.
Sam Waldron, from the church, said: "We've got trees which feature dinosaurs, classic TV programmes and childhood sweets.
"The festival is a real community effort and brings the spirit of Christmas to life."