Bournemouth dancing duo turn down smartphone sponsorship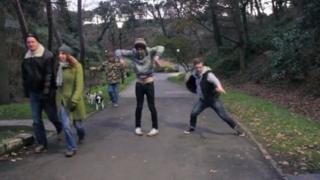 A duo who have filmed themselves dancing to cheesy songs around Bournemouth have turned down a sponsorship offer from a mobile phone giant.
Lewis Bullock, 25, and Luke Bonner, 22, both from the Dorset town, have released a new video each day on an advent calendar they have dubbed The Art of Dancing.
It has had more than 300,000 hits online.
But they thought tying their hijinks to a national promotional campaign for a new smartphone would "taint" the project.
Mr Bullock said: "They were going to give us the rights to dance to the song in all their promo adverts and then they would plug it through all their channels.
"But the nice thing is we have no agenda whatsoever other than looking like buffoons and letting people laugh at us.
"It's a fun project for people to be involved in or watch, and just getting the feedback from that is enough."
'Only about smiles'
Mr Bonner added: "We wanted to stay true to the idea.
"We weren't willing to attach a brand to it, it was only about making people smile."
The two men met at Arts University College, Bournemouth, and thought up the idea on a trip to the pub.
Friends had frequently commented on their humorous dancing at nightclubs and they decided to start sharing videos around the university.
Interview requests followed from as far afield as Japan and New Zealand.
Typically, each performance begins with location scouting and the help of a third man - 22-year-old Max Fitzgerald.
The duo describe him as "cameraman, chaperone and motivator".
The music track is played through a portable speaker connected to a phone. Each song is kept to under two-and-a-half minutes.
"After that we're ready to collapse," Mr Bullock said.
"When we started it was a lot more difficult. It was shocking how unfit we were, but now it's got a lot easier."
Reactions on the scene have ranged from applause from absolute strangers, strange looks, and complete indifference.
'Bizarre and strange'
Mr Bullock said his favourite performance was a dance in a launderette to Little Richard's Tutti Frutti.
"There was a woman sat in there waiting for her clothes to wash. We strolled up, did a stupid dance and walked off.
"She must have had the most bizarre and strange clothes washing experience that anyone could possibly have."
Locations have included Bournemouth town centre and the beach front.