John 'Butch' Nash's coffin transported on skip lorry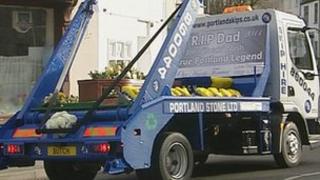 The coffin of a former town and borough councillor from Dorset was taken around the streets of Portland, in Dorset, on a skip lorry ahead of his funeral.
John Nash, 64, who was known as "Butch", founded skip hire company Portland Stone Ltd in 1997 and donated thousands of pounds to local charities.
He died at his home on Portland on 8 December. His friend Trevor Poole said he would be "missed greatly".
Hundreds of people attended his funeral service at All Saints Church in Easton.
'Only fitting'
Mr Poole, of Briantspuddle, had been friends with Mr Nash for 25 years.
He said: "Whenever anyone who had worked on Portland in the stone trade retired, Butch would send a skip down for them.
"It was a tradition that went on for years. He had a great sense of humour.
"It's only fitting that his son Danny, who has taken over the business, decided that that's how he should be transported around the island on the day of his funeral."
Mr Poole added that Portland "will have a little less character" without Mr Nash, who died of lung cancer, following a three year battle with the disease.