New wildlife woodland planted in Weymouth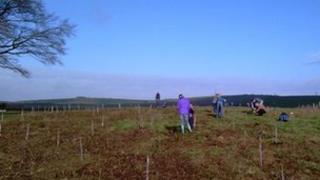 A new woodland has been planted in Dorset to attract and support wildlife.
More than 500 native trees have been planted at Horselynch Plantation by 120 school children and local people.
It is hoped the trees will attract wildlife species including rare bats, green and great spotted woodpeckers and speckled wood butterflies.
The oak, ash, hornbeam beech and hazel trees have been added to compensate for habitat lost to construction of the Weymouth Relief Road.
The land bought by Dorset County Council will become part of the Dorset Wildlife Trust's adjacent Lorton Meadows Nature Reserve.
Dorset Wildlife Trust's conservation officer Samantha Dallimore said: "I was amazed by the number of local people that turned up to plant trees.
"It gives people pride in their local green space. The trees should look great in about 10 years' time, and the area should look like a fledgling woodland in about 20 years."
A further 1,000 trees are due to be planted on the land which spans about 1sq km in the new year.
The project has been funded by the Big Lottery Fund through Natural England's Access to Nature programme.