Wimborne square enhancements begin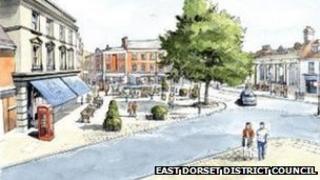 A £410,000 makeover of a square in a Dorset town begins in January.
Enhancements to The Square in Wimborne Minster will see more pedestrian areas and alterations to existing traffic flow.
Bus stops and taxi ranks will be moved during work which will be completed by the end of May 2012.
Leader of East Dorset District Council, Spencer Flower, said the changes would befit "the historic importance of Wimborne."
He added: "The council has long held the ambition of enhancing the centre of Wimborne, with particular focus on The Square.
"We will work closely with the local community in order to carry out the construction in a sensitive and considerate way, creating a new, attractive centrepiece for the town."
Work begins 9 January and the Wimborne Folk Festival in June will be unaffected.
Residents can keep up to date with the work through the project's Twitter feed.