Dorset dressmakers star in My Big Fat Gypsy Christmas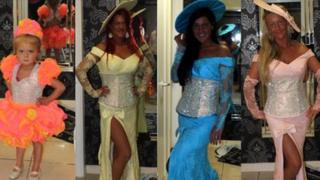 It was a chance encounter that led to Suzanne and Carol Baber's dressmaking business for Irish and English Traveller communities.
"My mum had a wedding dress shop in Bournemouth," said Suzanne.
"One day I was shutting the shop up and a traveller girl came in and she asked me if we could make her a dress.
"It really spiralled from there."
Since that 2008 meeting, the Dorset dressmakers have been inundated with orders for wedding, party and first Holy Communion dresses for traveller communities in Southampton and Bournemouth.
Suzanne said the travellers' requests could be incredibly elaborate.
'Dress scars'
"In one case, we had four dresses to make for the sisters of the groom at a wedding. Each one had a belt under the bust to the hips with 10,000 crystals, with every crystal sown on individually.
"We had four dresses to make in four weeks, so we were working really hard on that one.
"They heaviest dress we have done was a wedding dress took three of us to lift it. We had a really hard time getting it out of the door.
"The brides get scars on their hips from wearing the dresses, but they have a saying - 'the worse the scars, the better the dress'."
It was the children's dresses created by the pair which drew the attention of programme-makers at Channel 4, and were featured in Channel 4's My Big Fat Gypsy Christmas.
"We are asked to make a lot of matching adult and children dresses.
"The First Communion dresses are like mini-wedding dresses," said Suzanne.
"We also make special dresses for children to wear on Christmas Day. They are quite old-fashioned. They are quite Victorian-looking."
However, the Babers said they enjoyed making all the travellers' dresses.
"We love it. Sometimes the designs are so outrageous, but the dresses always turn out really spectacular and amazing.
"They come up with the designs," she said.
Suzanne said she saw a difference in traveller brides, who are typically aged 17 and 18, compared to other brides she had designed dresses for.
"Brides generally tend to be quite sort of stressed, but the traveller brides don't seem to be as stressed," she said.
"They know exactly what they want. They have an idea in their mind about exactly what they want, and we put it on paper for then.
"So far we've never had a complaint once the dress is made."