Dorset couple mark 40 years of fostering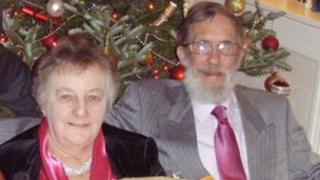 A married couple from Dorset have been recognised by the county council for fostering children for 40 years.
Phil and Wendy Hopkins, of Bradford Abbas, near Sherborne, have offered a temporary home to more than 100 children since 1972.
At one stage, when they had four young children of their own, there were eight youngsters in the house.
Mrs Hopkins, 66, said: "It's very rewarding - you see a child being shy or insecure and you see them blossom."
To mark their 40-year landmark, the couple were given flowers and champagne by Dorset County Council's director of children's services, John Nash, at a presentation in Dorchester.
Mrs Hopkins, and her husband, 72, a former electricity board engineer, registered to begin fostering while Mrs Hopkins was pregnant with their fourth child.
'Winding down'
She said: "As a little girl at school, we made toys for a children's home and that really moved me. Also my husband came from a big family. It was just something that we both wanted to do.
"We have seen children who have not smiled for a while and sometimes it can take a long time.
"They trust you to listen and not judge. We work with the parents too - they have come to the house to see their children. We are all working for the same thing.
"'There have only been two occasions in 40 years when we have decided that it wasn't for us."
The couple, who also have 13 grandchildren, now say they are "winding down".
Mrs Hopkins said: "We don't have teenagers any more but we still have little ones.
'Keeps us young'
"Phil likes to feed the babies and they seem to like that. He reads to them and gradually you see them looking through the books - it helps with their speech and all sorts.
"We do the same with the children as we did with our children. We love going to animal parks and adventure parks - it keeps us young.
"You do miss them when they go but if they are going to their parents or being adopted then it's wonderful. You are bound to miss them because they've been part of your life.
"Sometimes you hear from them out of the blue and that's nice. We're in touch with all the little ones who have been adopted and some of the older ones and we see them sometimes."
After four decades of spending Christmas with their foster children, Mr and Mrs Hopkins have found themselves "between children" this year so are spending the time with their own children and grandchildren.
Dorset County Council said there were about 200 foster carers in the county but more were needed.