New year curry banquet to be flown out to UN troops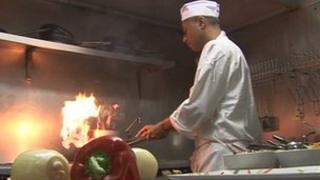 A curry house in Dorset has been hired to provide food to be flown out to UN troops in the Sudan for New Year's Eve.
Eye of the Tiger in Bournemouth said it was preparing more than 4,000 containers of curries, poppadoms and bhajis for the Bangladesh Air Force.
The order came from Mustafa Azim who has paid for the meal as a gift for his cousin and comrades serving in Darfur.
The takeaways and a chef will be flown out from Heathrow to Khartoum in time for dinner on New Year's Day.
Mr Azim has chosen the restaurant as his cousin, a squadron leader in the Bangladesh Air Force, used to eat there regularly.
He said: "It's going to be phenomenal, my cousin's been out in Darfur for almost four months and not a curry in sight, so he said bring me one of my favourite curries. He's going to be awfully pleased.
Dry ice
Instead of taking out a meal for just his relative, Mr Azim spent about £3,500 to cater for the entire unit.
"I think they'll all have big grins on their faces," he added.
Chefs at the restaurant in Old Christchurch Road have made 1,000 portions of four curries for the feast, a hilsa biryani - the national fish of Bangladesh, a jalfrezi, lamb bhoona and a mild korma.
It is the first time the restaurant has cooked for the troops.
The curries plus side dishes and naan bread will be frozen and packed in dry ice before being shipped out from Bournemouth's Hurn Airport to Heathrow for the 5,000 km (3,100 mile) journey.
Restaurant manager Ramzan Ali said: "It's exciting and thrilling and it's nice to know you've done something really good.
"The chef will be taking extra spices and herbs with him so if anything goes wrong he can replicate the food."
The curry house is used to dealing with unusual orders and has cooked and delivered food to music stars and politicians in the past, said Mr Ramzan.