Dorset pensioner gets logs for Christmas from charity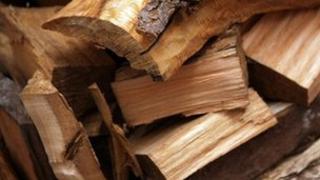 A woman from Dorset has received logs from a charity to burn over Christmas because she says a government scheme failed to fix her heating.
Anne Lovell, 72, from Swyre near Dorchester was left without heating when her heating broke last Christmas.
She says despite contacting government run Warm Front in July they failed to install any heating in her cottage.
A Warm Front spokesman said: "High levels of demand and limited funding mean there are waiting times."
'Difficult situation'
But Ms Lovell said that she could not understand why the government scheme was so inefficient.
"If I didn't have the benefit of a second room where I could burn firewood I'd be sitting here freezing," she added.
The Warm Front spokesman said: "We understand this is a difficult situation and naturally we will make ever every effort to complete the work as soon as possible.
"It is, however, important to note that Warm Front is not an emergency service.
"It is a government scheme designed to provide a package of heating and insulation measures to help households on qualifying income benefits make their homes warmer and more affordable to heat."
'Saved lives'
Last winter 269 vulnerable people in Dorset died from preventable cold weather related deaths, according to the Dorset Community Foundation.
The charity has a Surviving Winter fund which paid for the cropped logs to see Ms Lovell through the winter period.
It has also provided crisis funding to ensure other elderly people do not have their gas or oil supplies cut off, it said.
Tina Baker from the charity said: "I'm not exaggerating when I say that this emergency money saved lives."