New Year Honours: Portland Coastguard manager made OBE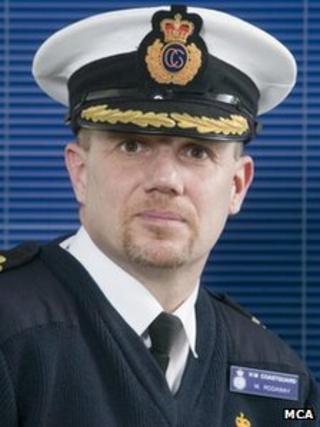 The manager of Portland's coastguard centre, which the government has said will close, has been appointed OBE in the New Year Honours.
Mark Rodaway, from Bournemouth, has served as a coastguard for 22 years and was involved in the rescue of MSC Napoli in 2007.
Mr Rodaway said it was "an absolute honour" to have his work recognised.
David Fletcher, from Bovington's Tank Museum, was also appointed MBE for services to military heritage.
'Absolute honour'
Mr Rodaway said: "Although the award is a personal one, I hope it is considered a reflection of both Her Majesty's Coastguard and the exceptional team at Portland Coastguard."
In 2008 he received an award from Prince Charles and the Duchess of Cornwall for his work when the MSC Napoli was grounded off Devon after it was damaged by storms off the coast of Cornwall.
The drifting vessel was being towed to Portland Harbour in Dorset for a salvage operation, but fears of severe structural damage prompted the Maritime and Coastguard Agency to deliberately ground it in Lyme Bay.
Other people from Dorset who received honours include:
OBE
Lady Rachel Billington, from Sherborne, author and vice-president of English PEN, for services to literature.
Charles Blundell, strategic government and international affairs adviser for Rolls-Royce plc, for services to industry.
Dr Arthur Butland, from Poole, deputy vice-chancellor at Middlesex University, for services to higher education.
James Grazebrook, an entrepreneur from Cranborne, for services to the UK marine industry.
MBE
Audrey Beall, from Wimborne, for voluntary service to the East Dorset and New Forest branch of the Motor Neurone Disease Association.
Prudence Bollam for services to the communities in Upwey and Weymouth.
Charles Edward Bracken, from Poole, chairman of SANE, for voluntary service to mental healthcare.
Philip Burton, from Sherborne, for services to the community in Leigh.
Roger Castle, from Poole, for services to gymnastics.
Paul Chick, from Dorchester, chairman of the Carers' and Parents' Support Group and Dorset Police Carers' Support Group, for services to the community in Dorset.
Sarah Dummer-Wade, from Shaftesbury, founder and chief executive of ReRun - Dorset Runaways' Service, for services to young people.
Christian Jacobs, from Dorchester, senior mechanic of Antarctic Logistics and Expeditions, for services to scientific research in the Antarctic.
John Lambert, from Weymouth, for services to people with disabilities in Weymouth and Portland.
Eric Osmond for services to the community in Wareham.
Professor Richard Roberts, from Poole, SME market analysis director at Barclays Business, for services to UK small and medium-sized businesses.
Marion Webb, from Weymouth, for services to the community in Dorset.