London 2012: Phillip Hammond backs sailing security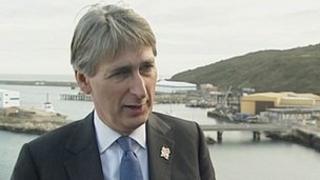 The Olympic sailing events in Dorset will have "all necessary security measures in place", according to the Defence Secretary Phillip Hammond.
Mr Hammond was speaking during a visit to the Olympic sailing venue at Weymouth and Portland.
He said: "We are very confident of providing a very high security and a very safe games, both in London and in Weymouth."
The Royal Navy and Royal Marines will support Dorset Police during the Games.
Amphibious assault ship HMS Bulwark will be stationed off Weymouth and Portland during the Olympics with a specialist unit of Royal Marines on board.
'No specific threat'
Mr Hammond was on one of a series of ministerial visits to Olympic venues to mark 200 days before the start of competitions.
Speaking onboard Royal Fleet Auxiliary Mount Bay, he insisted there was no specific threat to the Games at this stage.
He said: "These are precautionary measures we are putting in place to make sure everyone can enjoy the Olympics, safe in the knowledge the police and military authorities are delivering all the security that will be required.
"The eyes of the world will be upon us, that means we have to assume we would be a tempting target.
"There will be all necessary security measures in place, led by police, to make sure the Games are safe and secure."
Weymouth Harbour Authority has revealed half the places for visitor berthing in Weymouth Harbour and anchoring in Weymouth Bay during the Games have been taken.
All berths and anchorages between 16 July and 9 September 2012 must be booked in advance for security reasons.