Fire damages 11 cars near quarry in Portland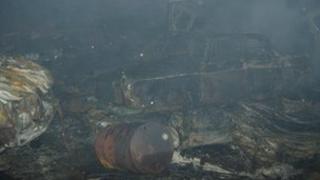 A fire which damaged 11 cars near a Dorset quarry is being investigated.
Crews were called overnight after reports of a fire next to Inmosthay Quarry in Portland.
Two shipping containers holding engine components, an empty horsebox and a mobile building with old railway sleepers inside were also severely damaged.
Three fire engines were called. Crews will return to the site in Easton Lane later to inspect it.
The damaged cars were described as banger racing cars.