Delegation meets PM over Portland Coastguard helicopter axe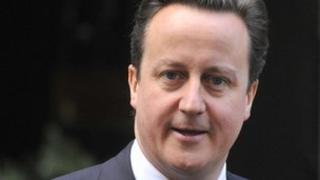 A delegation from Dorset has met Prime Minister David Cameron over government plans to axe the county's search and rescue helicopter.
Operations at the Portland coastguard centre will end in 2017 as part of a national shake-up of operations.
The south coast will instead be covered by a new Maritime Operations Centre (MOC) in Fareham, Hampshire.
The delegation, led by Tory MP for South Dorset Richard Drax, met the prime minister at Downing Street.
After the meeting, which lasted about 15 minutes, Mr Drax said: "The prime minister did a lot of listening. We've lodged it at the highest level we possibly can and now we hope the secretary of state for transport will rethink the whole thing."
'Quick response'
Weymouth and Portland councillor Tim Munroe said: "Time is critical in sea rescues.
"In the area around Weymouth and Portland we have a huge chartered diving fleet and huge sports fishing fleet so when there are incidents at sea both of these sports need a quick response from the helicopter. It will take about 10 minutes longer from Solent."
Mr Munroe said as a quarter of all helicopter sea rescue operations in the UK took place in the Solent and Cornwall area, there was an argument the area should receive 25% of resources.
He added: "I hope Richard is able to convince the prime minister and those that make decisions in his office that at least two helicopters at Solent would be more appropriate to cover this area."
'More reliable'
Search and rescue operations are currently provided by the Ministry of Defence (MoD), which uses Sea King helicopters from eight military bases, and the Maritime and Coastguard Agency (MCA), which operates from four civilian bases, including the one in Portland.
The government said all search and rescue helicopters would be crewed by civilians after the Sea King fleet is removed from service by March 2016.
A Department for Transport spokesperson said: "A modern, faster fleet of helicopters operating from 10 full-time bases (rather than the 11 full-time and one day-time only operated now) will provide a more reliable overall service that still meets the key search and rescue requirements.
"Independently verified analysis shows that the two bases from which it would be operationally most sensible to remove search and rescue operations, while still maximising coverage of the UK search and rescue region, would be Portland (the daytime only base) and RAF Boulmer in Northumberland."