Dorset champion tree gets the chop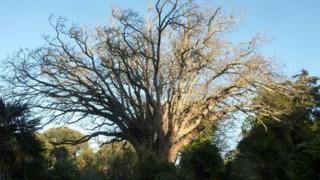 A 160-year-old tree, believed to be the largest of its kind in Britain, is being chopped down in Dorset.
The champion caucasian wingnut tree at Abbotsbury Subtropical Gardens, near Weymouth, was planted in 1845 and is over 90ft (27.4m) tall.
Tests have shown its trunk is "rotten to the core", according to a spokesman from the gardens.
It is thought to have been brought to Dorset by the botanist and fourth Earl of Ilchester, William Fox-Strangways.
Designated champion trees are those believed to be the tallest or the largest of their kind in Britain and Ireland and are recorded on a national register.
Stephen Griffith, curator at the gardens, said: "We're sad to say farewell to the tree because it has been a landmark for decades and is part of the great heritage of Abbotsbury village."
The tree split down the middle in December, sparking safety fears.
The work is expected to take tree surgeons six days to complete.
Lord Fox-Strangways also planted a caucasian wingnut tree at his family home, Melbury House, near Dorchester.