Bournemouth council leader Peter Charon loses confidence vote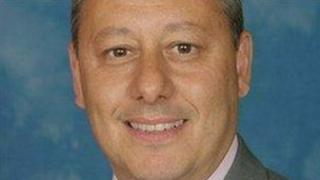 The leader of Bournemouth Borough Council has resigned as leader of the ruling Conservative Group following a vote of no confidence on Monday night.
Councillor Peter Charon failed to win the support of fellow councillors.
Conservative councillor Nick King voted against his leader saying he had concerns about his "abrasive" and "confrontational" leadership style.
Mr Charon said he intends to resign as leader of the council at a special meeting, on 21 February.
"This allows sufficient time for the Conservative Group to appoint a new group leader at a meeting scheduled for 13 February," a council spokesman said.
"That group leader will then be nominated as council leader at a nominations board on 21 February, prior to being appointed as leader of the council at the special full council meeting at 19:00 GMT the same evening."
'No genuine justification'
Mr Charon was unavailable for further comment but a Conservative Group spokesman said Councillor John Beesley would be its interim leader.
Speaking before the vote, Mr Charon had said he could see "no genuine justification" for the motion.
But he was unable to win the support of all the members of his party, which holds 46 of the 54 seats on the council.
The authority has been hit by a number of controversies in recent years.
Mr Charon, who became leader in July 2010, has had an accusation of bullying upheld against him by the council's Standards Board.
Pornography was discovered on the council laptop of former leader Councillor Stephen MacLoughlin, while fellow Conservative councillor Richard Powell was found to have forwarded racist jokes on his mobile phone.
Both were cleared of bringing the council into disrepute as it could not be proved they were acting in their official capacities.
Former Bournemouth councillor Douglas Spencer was suspended from the Conservative Party by Conservative Campaign Headquarters for more than a year before he resigned in December 2010.
The party said the sanction was a result of Mr Spencer's "unacceptable and offensive use of racist material that extended to a judgement about his behaviour".