Family of Bournemouth bomber crash pilot Denis Evans in justice call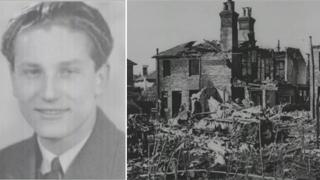 The family of a World War II pilot, blamed when his bomber crashed on houses in Bournemouth, is calling for his name to be cleared.
Seven crew and two civilians were killed when the Halifax bomber came down on Moordown in March 1944, shortly after taking off from Hurn Airport.
The plane was piloted by Flight Sergeant Denis Evans, 20.
Despite eye witnesses reporting engine failure and doubts over the plane's airworthiness, official reports into the crash squarely blamed the young pilot.
Secret mission
His family and those of other crew members are compiling a dossier to present to the Ministry of Defence to have Denis Evans exonerated, 68 years after his death.
The seven-man Halifax crew was bound for Morocco on a secret mission on 21 March 1944.
Shortly after taking off, the port wing of Halifax bomber JP137 was seen to dip at a height of about 300ft (90m).
Moments later it crashed into a residential suburb, flipped over and its fully-laden fuel tanks exploded.
All the crewmen died, along with two residents.
Russell Barnes was a teenager at the time and remembers being woken up by the sound of a plane.
"It was making a peculiar noise. One engine would roar, then scream, splutter, backfire and go silent.
"It was obvious they were going to die and I just felt for the pilot. Then the bang came and I realised it was all over."
'Hell incarnate'
Margaret Bennett's mother Dorothea was one of the civilians killed in her home.
Ms Bennett, who was also in the house, said: "There was a bump, and my mother said 'the curtains are on fire'.
"Then there was a second explosion. The room my mother was in was completely burnt and the roof fell in, there was nothing there."
Historian Roger Shore said: "It was utter devastation. Hell incarnate came to that part of the world suddenly and unexpectedly."
James Hamilton, a great nephew of Denis Evans said: "He was obviously very skilled otherwise he wouldn't have been chosen for special missions.
"Even though he was very young, he was a natural pilot."
In the aftermath of the crash, the official record made no mention of engine failure.
Eyewitness reports of an engine fire only came to light at the civilian inquests.
Margaret Bennett said: "There was a feeling that it shouldn't have flown at all."
Evelyn Cleverley, whose brother Henry was the navigator on the stricken plane, recalls he had concerns about the plane's airworthiness.
"Every night he wrote to his wife saying the plane was not ready.
"There was doubt about that plane all through that week," she said.
'Terrible waste'
She is supporting the efforts to exonerate Denis Evans from blame.
"Those last few minutes have given me a lot of sadness. If there was something wrong with the aircraft, then it wasn't the pilot's fault."
Problems with locked rudders in Mark 2 Halifax bombers were known to be a recurrent issue the manufacturers were trying to fix at the time.
The families suspect it was easier to blame the pilot than raise wider issues about the safety of the vital bomber fleet in the run-up to D-Day.
Mr Hamilton said: "An injustice was done and it should be put right.
"They used his age as an excuse but they didn't think about the consequences on our family. It was a terrible waste."
Watch the full story of the Halifax crash on Inside Out South, Monday, 23 January 19:30 GMT on BBC One South, and on BBC iPlayer.